The 7th Annual Pull For Our Veterans™ Skeet and Trap Fun Shoot
Date: October 5-6, 2018
Location: Oak Ridge Sportsmen's Association, 2625 Oak Ridge Turnpike, Oak Ridge, TN
The event format is Skeet and Trap Shoot - 25 skeet, 25 wobble trap, 25 trap and 25 skeet doubles. Entry fee: Skeet and trap - $100. Entry fee covers breakfast and lunches, 100 birds, t-shirt and hat.
Pull for Our Veterans has teamed up with Patriot Threads to provide custom T-Shirts for this event. Order your Patriot Threads Special Event T-Shirt using Promo Code PFOV and get 10% off your entire order and $8 from every shirt ordered using this code will be donated to the Pull For Our Veteran's Event Non-Profit.
2017 PFOV Fun Shoot Raises Money for Smoky Mountain Service Dogs
The 2017 PFOV Fun Shoot raised $32,000 for Smoky Mountain Service Dogs. On 10 November 2017 PFOV presented a check to them and on 15 November 2017 PFOC participated in their "Passing of the Leash Ceremony." We are honored to pass the leash of "Summit" to wounded veteran James Radakovich.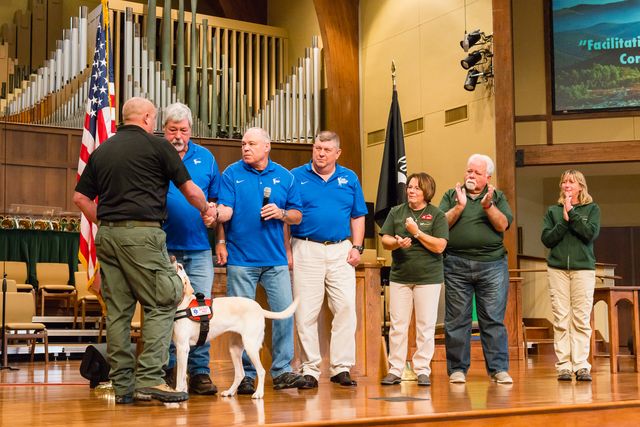 The video below is from the 2017 "Passing the Leash Ceremony".
Press Release
2018's Event Details
Donate Today!
You can donate year round to the worthy cause that we support. When you have a few extra dollars or when the inspiration strikes you just click the "Donate" button below. The funds will be sent to our bank and we will send a quarterly check to veterans and their families. These funds will count to our total goal for each year.